---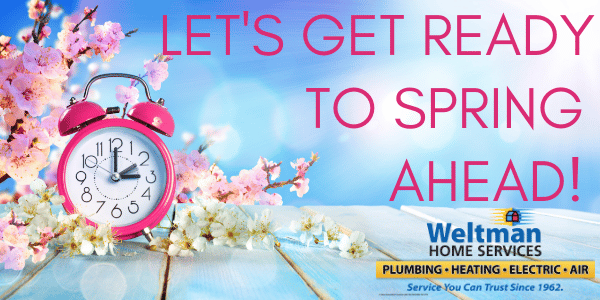 ---
Don't Forget To SPRING AHEAD
---
---
Don't Forget To SPRING AHEAD This Weekend!
It may be bitterly cold today, but spring is right around the corner!
Changing the clocks is a great reminder to take care of some annual tasks around your house. We've put together a quick spring ahead checklist of important maintenance steps to help you spring into the next season with ease:
Replace Batteries
Change the batteries in your smoke and carbon monoxide detectors. Test them as well.
Prevent Water Damage
Test/inspect your home's sump pump to ensure it's ready to combat April's showers!
Screen Your Windows
If you removed your window's exterior screens it's a great time to clean & replace them!
Get Rid Of Lint
The lint trap isn't the only place that needs to be cleaned. Your dryer's hoses and vents should be de-linted annually.
Test GFCI Outlets
Plug a lamp into the GFCI outlet + press 'test'. This should cut the power to the lamp. Press reset to reactivate + repeat with each outlet. (Been a while since your last electrical safety inspection? Contact us today!)
Check Your Security
Test all window and door locks, handles, knobs and deadbolts throughout your home to ensure that the house is safe + secure.
Change Your Filter
Your HVAC system's filters should be changed every 4 months. (This is included in our tune up service!)
Book Your Tune-Up
It may be cold now, but the warmer weather isn't too far away! Get your annual a/c tune up on the schedule now + save.
Locate + Inspect
Ensure that your fire extinguisher is easy to access. Wipe it down, inspect it for damage + check the expiration date.
Vacuum Your Mattress
Shake baking soda on both your mattress + box spring. Thoroughly vacuum both.
Scrub The Hood Filter
Remove your stove's hood filter, scrub away grease + grime thoroughly + replace it when it dries.
Clean The Fans
Turn off the power and clean each bathroom fan to extend their life + operating efficiency.
---