---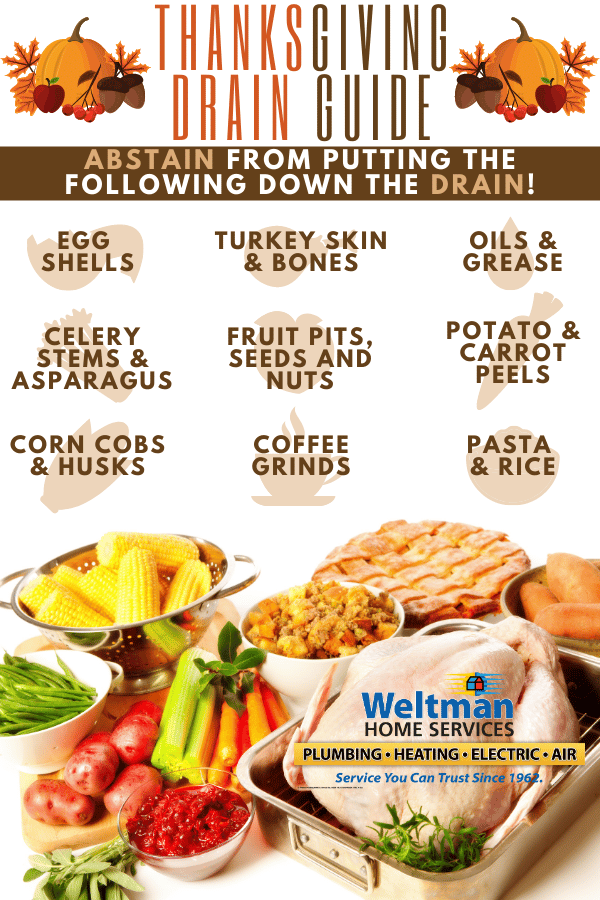 ---
---
---
Thanksgiving week is the busiest time of year for our plumbers. In fact, the Saturday after the holiday is now known as 'brown Saturday' in the trades. Why? Because of the amount of kitchen drains that become clogged due to the prepping, cooking and after-meal clean up on Turkey Day.
This year, be sure to protect your home's plumbing by following the drain guide below. And – if you have a slow to clear drain now, clear it before the holiday and save yourself from a holiday headache.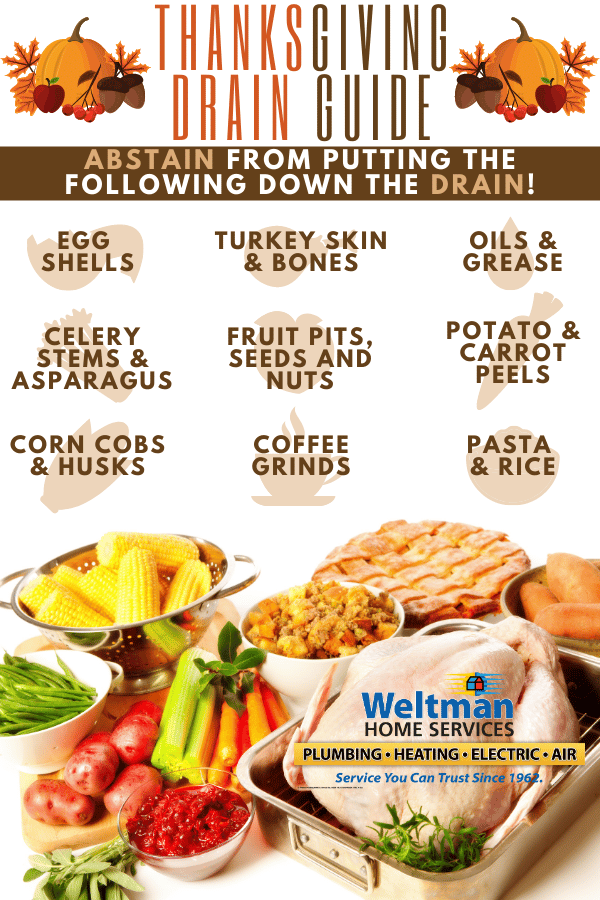 TURKEY DAY GARBAGE DISPOSAL TIPS
When you are putting your garbage disposal to use on Thanksgiving Day, use the tips below to keep it running smoothly:
Cold water should be running during the entire operation of the disposal & even for a few moments after.
Only put small pieces of food into your garbage disposal. The smaller the size, the better the results will be.
Grind for as long as needed, being sure not to stop the disposal when there is still food to process.
Always remember our golden rule – when in doubt, just throw it out! It's not worth the risk of putting it down the drain.
And, if you do run into Thanksgiving Drain issues, give us a call! Our plumbers are drain clearing experts. They will have your drain cleared, your plumbing working and your kitchen fully functioning. Clearing slow or clogged drains and sewer lines is our specialty. Having a slow or semi-clogged drain or sewer line is a small inconvenience that can quickly turn into a big problem. Clogged drains and sewer lines should be dealt with at the first sign of a problem. This will prevent a more costly and potentially more harmful situation for your home.
From slow draining sinks to completely clogged sewer lines, our expert plumbers are professionally trained and equipped with the best tools on the market to deal with any and all clogged drain and sewer line problems.
---