---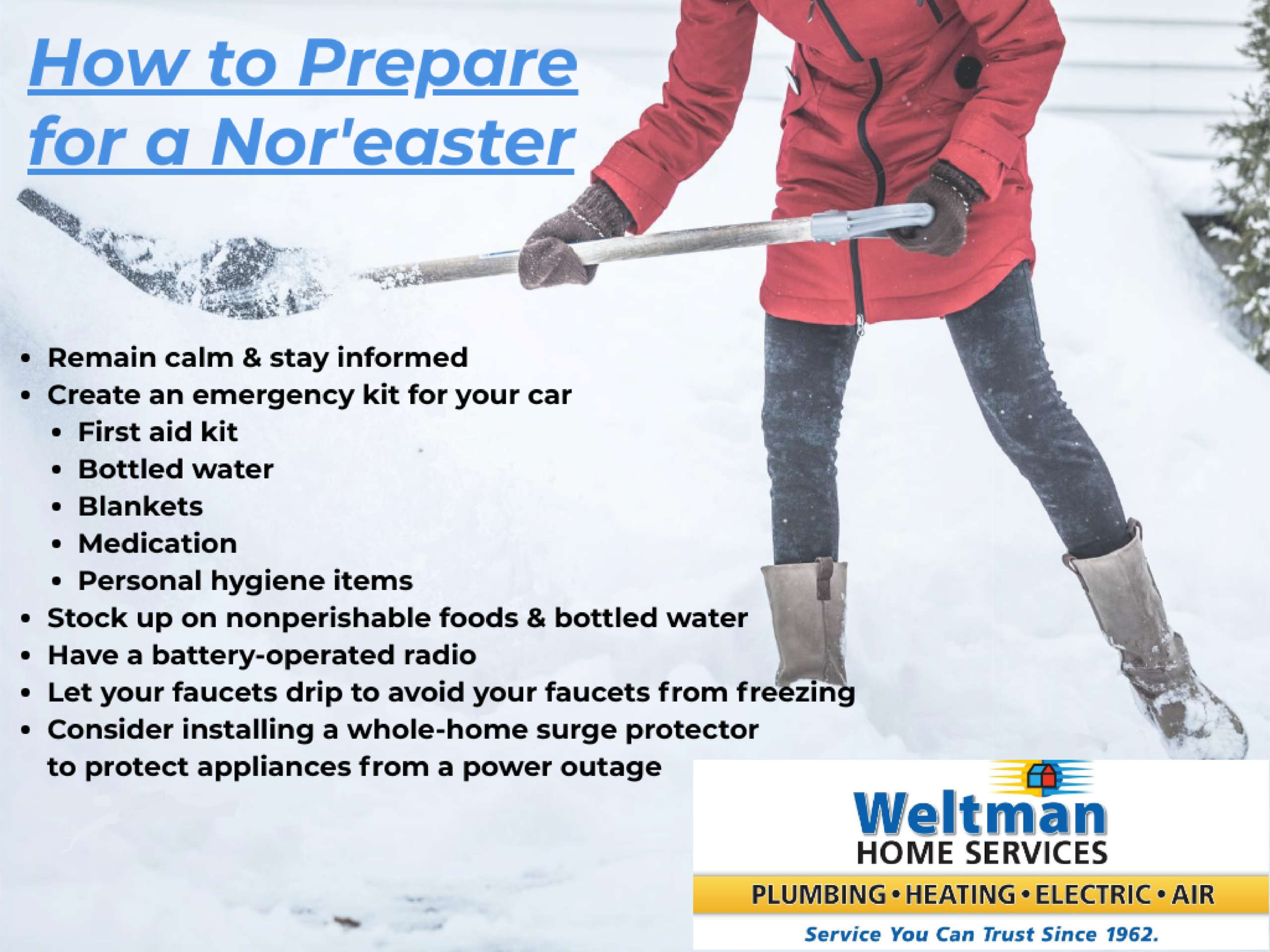 ---
How to Prepare for a Nor'easter
---
---
How to Prepare for a Nor'easter
When disaster strikes, it can be difficult to remain calm. There are so many different factors to think about and prepare for which can make going through a winter storm very overwhelming.
From a loss of power to being snowed in, handling a nor'easter is a huge challenge. To ensure the safety of your loved ones and yourself, you should know how to properly prepare before, during, and after the storm.
What is a Nor'easter?
A nor'easter is different from a regular storm. According to National Geographic, a nor'easter has winds that come from the northeast and often affects the east coast.
What are the Characteristics of a Nor'easter?
In addition to the winds coming from the northeast, there are a few other factors that make a nor'easter a distinct storm:
It can happen at any time of the year
Most commonly occurs during September-April
Nor'easters don't always have snow
It has strong winds that are cold at the core
What Should You Do Before, During, and After a Winter Storm?
There are quite a few measures one should take to ensure their safety before, during, and after a nor'easter. The tips below will help make getting through the storm just a little bit easier.
Tips to Prepare Before the Storm
There are four safety measures that you should take to prepare your home for a nor'easter.
Stay Informed
It's very important to have emergency and public safety alerts enabled on your phone. You can check your device's settings to see that all government notifications are turned on so you'll be notified of updates in real-time.
However, having national alert notifications turned on is not enough. To have the most up-to-date information you should look for local news sources. This may be a TV news channel or even a social media account for the city that you live in.
By staying informed you will be more prepared for the steps you may have to take if the storm becomes devastating, such as evacuation.
Another way to stay informed, without relying on having cell service, is by purchasing a battery-operated radio. This can keep you updated on all local news and emergency alerts without draining your phone's battery. You can follow the NOAA Weather Radio All Hazards station to hear all information 24 hours a day, 7 days a week.
Create an Emergency Kit
You can create separate emergency kits both for your home and your car in case you must evacuate. Some things to consider include:
Portable charger
Batteries
Flashlight
Medication
First aid kit
Bottled water
Canned foods and other nonperishables
Disposable utensils and plates
Warm clothing
Blankets
Personal hygiene items
Pet food and other pet-related items
Cash
Documents (ID, SSN, birth certificates, and passports)
Prepare for a Power Outage
While it is not guaranteed to happen, a power outage may occur during a nor'easter. It's always best to prepare for all possible outcomes, and you should consider what steps you can take to prepare for a power outage.
First, you should check that all smoke and carbon monoxide detectors are working. If you can't remember the last time you changed out their batteries, just go ahead and put a new set in and test it out.
If you own a home, it's worth installing a whole-home surge protector. While power strips protect your devices, it's only to a certain extent. Installing a whole-home surge protector provides the highest level of protection that can withstand powerful lightning and downed power lines from the storm.
It's also worth purchasing a generator to maintain power throughout the nor'easter. It's important to do your own research to find the right generator for your home and to never operate it inside the house.
Protect Pipes from Freezing
Insulate Pipes: Insulate exposed pipes so your water supply won't freeze up.
Use Heat Tape: Wrap this cable around your pipes to add heat. This should be done before you expect the temperature to drop drastically to ensure that it traps the heat and works.
Disconnect Garden Hoses: Any garden hoses or other attachments outside your home should be disconnected. You should also shut off any water going to outside pipes to prevent them from freezing and limiting your water supply inside the house.
Adjust Thermostat: Make sure that your home is nice and toasty. Set your thermostat to be between 60-68 degrees.
Let It Drip: Turn on your faucets to let the water lightly drip. This allows your water to flow through your pipes to prevent a sudden burst when you fully turn them on again.
What to Do During a Nor'easter
Once the storm hits, it's time to remain calm and continue to listen to the radio for instructions. Make sure that your pets are all inside and that everyone in the household is staying warm.
You should remain indoors and avoid going outside or driving anywhere. If the storm is really strong, you should also board up your windows and stay away from them. This will protect you from potential breaks and glass shards.
After the Winter Storm
After the nor'easter hits and the local government okays it for people to leave their homes, you should inspect your house for damage and safety hazards. If you see something unsafe, such as downed power lines, stay away from it and call for help.
You may also want to check in on your neighbors and loved ones to see if any of them require assistance. If anyone is hurt or unresponsive, please call 911 right away.
Lastly, even though the storm is over, you should still remain informed on what the local authorities are announcing. If you had to evacuate your home, it still may not be safe to return. Or if you were able to stay home, there may be serious hazards around you that you should be aware of.
---