---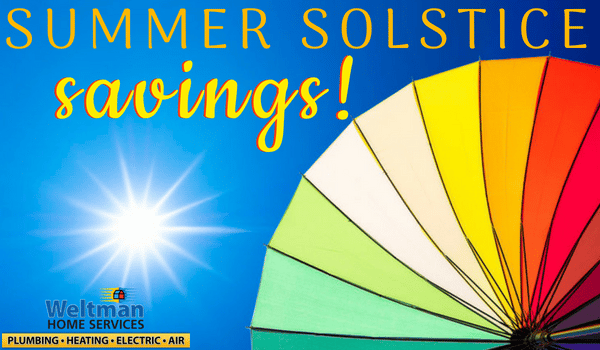 ---
---
---
Summer Solstice Savings
Summer Starts Today!
Today marks the official start of summer with an event that is celebrated worldwide – the summer solstice. Let us help you celebrate the start of the season right here in New Jersey with a $55 air conditioning tune up! Visit our coupons page for full details. (Summer solstice offer expires on 6/30/18)
Book your appointment. Save money. Stay cool! Here are a few fun facts taken from msn.com that you may not have known about this very special day.
Did You Know?
The Arctic Circle will experience 24 hours of daylight and the Antarctic Circle will have 24 hours of darkness.
Solstice is Latin for 'sun stands still'.
The present-day belief that June weddings are lucky can be traced back to the ancient Druids' celebration of "the wedding of Heaven and Earth" on the summer solstice. Traditionally the best time of year to harvest honey from the beehives, midsummer moon was referred to by pagans as the "honey moon," referencing the honey wine used in wedding ceremonies held on the summer solstice.*
The summer solstice was especially important for the ancient Egyptians since it signaled the annual flooding of the Nile River. To keep track of the day, the pyramids were built so that the solstice sunset fell exactly between two of them when viewed from the Great Sphinx.
Need more than an air conditioning tune up to keep you cool all summer? Give us a call! Our air conditioning technicians offer top rate service backed by a 100% satisfaction guarantee. We also offer FREE in-home estimates on new air conditioning installations – we will send a certified a/c professional out to your home to look at your house, measure the living space, and talk to you about your cooling needs. From here, we will give you different options that fit your budget and your family's needs.
---