---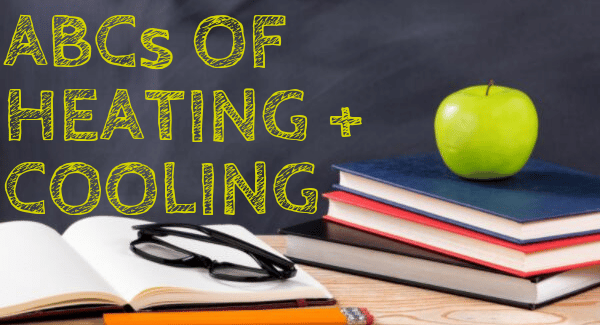 ---
---
---
ABCs of Home Heating
With a few more weeks of hot weather followed by a (most likely) quick transition into fall's cooler temps, your heating and cooling systems will be working hard to keep you comfortable. Here are a few ABCs of home heating, or HVAC basics from our technicians. Keeping the following in mind will keep you comfortable and energy-efficient year-round.
A
A dirty filter is costing you more than you think.
Dirty HVAC filters don't just add dust to your home's air. They lower your system's efficiency by reducing air flow, increase the chance of a breakdown and can even up the chances of illness spreading throughout your home. Keep your air clean and your system running at an optimal level by changing your filter regularly. Plus, a clean filter can save you around 15% on your home's annual cooling and heating expenses.
B
Booking annual maintenance is a must.
Annual heating and cooling system maintenance is the number 1 way to keep your HVAC systems running efficiently while avoiding an untimely breakdown. Spring and fall tune ups also:
Increase your system's efficiency
Prevent expensive and inconvenient breakdowns
Prolong the life of your system
Protect your home from potential damage from a system leak or breakdown
Safeguards your family against the dangers of Carbon Monoxide
Provides you with peace of mind all year long
C
Correctly setting your thermostat will keep you comfortable and save you money.
Properly setting your home's programmable thermostat can save you up to $180 a year! Energy.gov suggests:
You can save as much as 10% a year on heating and cooling by simply turning your thermostat back 7°-10°F for 8 hours a day from its normal setting. The percentage of savings from setback is greater for buildings in milder climates than for those in more severe climates.
You can easily save energy in the winter by setting the thermostat to 68°F while you're awake and setting it lower while you're asleep or away from home.
In the summer, you can follow the same strategy with central air conditioning by keeping your house warmer than normal when you are away, and setting the thermostat to 78°F (26°C) only when you are at home and need cooling. Set your thermostat at as high a temperature as comfortably possible and ensure humidity control if needed. The smaller the difference between the indoor and outdoor temperatures, the lower your overall cooling bill will be.
---