---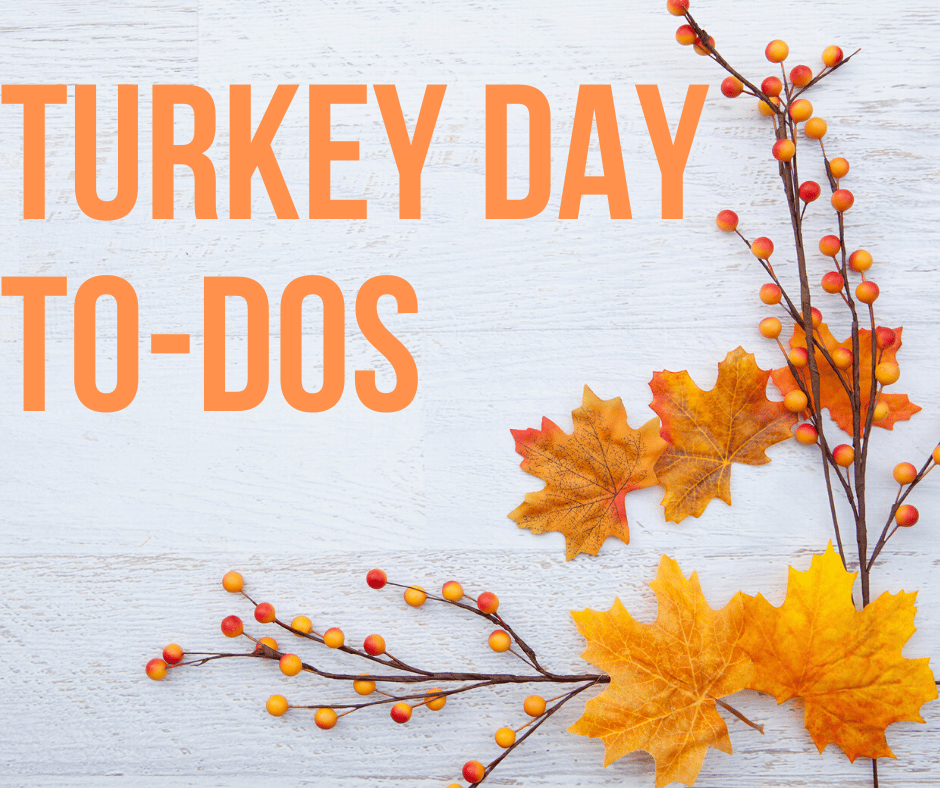 ---
12 Tasks To Prepare Your Home For Thanksgiving
---
---
12 Tasks To Prepare Your Home For Thanksgiving
Still need to prepare your home for Thanksgiving festivities? Well, it doesn't have to be overwhelming. We have put together the simple check list below to help you tackle your Turkey Day To-Dos while keeping your cool.
12 TURKEY DAY TO-DOs To Prepare Your Home For Thanksgiving
Place a trash barrel in the bathroom. Without an easy to use trash bin, guests are more likely to flush items that they shouldn't. Save your plumbing and your sanity with the addition of an obvious trash can. (Toilet issues? Don't wait until you have a busy house during the holidays to have it fixed! Fix it now.)
Clear out the coat closet. With guests coming over you'll need room to hang their coats and place their bags. Free up some hangers – and some space – before they arrive.
Buy extra paper goods, including to-go containers. Additional napkins, paper towels, toilet paper and even paper plates are always great to have on hand when entertaining a crowd. And if your crowd likes to take home left-overs be sure to purchase some disposable takeout containers. That way you aren't saying good-bye to your re-usable storage containers.
Replace burnt out light bulbs. Specifically, make sure that your porch, deck and exterior lights are all working to help keep guests safe and sound on your property. (Need a little more lighting in your yard? Install new exterior lighting before the holidays for a safer yard and a prettier site!)
Clean your oven. It will be working hard the entire holiday season. Start it off nice and clean and ready to go!
Make room in your fridge and freezer. Is it just us, or can you never have enough fridge and freezer space during the holidays? Spend some time clearing out any expired or not-needed items to make room for holiday cookin'!
Label your serving dishes. Organizing which side is going to go in which dish can save you from a lot of stress and scrambling on Thanksgiving.
Create and use place cards. We all have family members or friends that would prefer not to sit right next to each other. Save everyone from awkwardness by pre-arranging the seating.
Change your HVAC system's filter. Holiday entertaining and heating issues don't mix. Change your HVAC filter now for cleaner air and more efficient heat on Thanksgiving and all season. (Need your filter changed? Schedule any new home heating service through 11/20/19 and we'll do it for free!)
Check your fire extinguisher. With all of the cooking and candles on Thanksgiving, make sure that it is handy and has not expired. Most extinguishers last around 10 years.
Scrub down the microwave. In addition to your oven, your microwave will certainly be working overtime on Turkey Day, as well as the weekend after. Scrub it down now so that it is clean and ready!
Plan ahead for breakfast and snacks. It's easy to get wrapped up in preparing Thanksgiving dinner while forgetting about the other (important!) meals of the day. Be sure to have easy breakfast and snack options on hand to keep you going!
Happy Thanksgiving!
---