---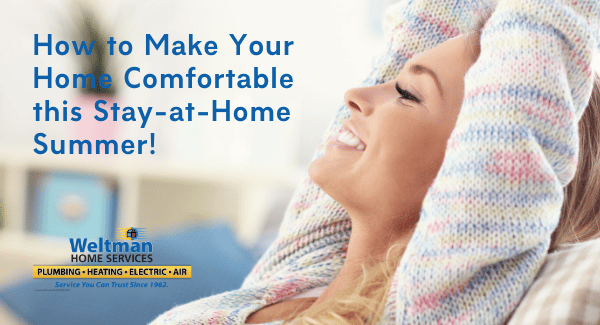 ---
How to Make Your Home Comfortable this Stay-at-Home Summer
---
---
How to Make Your Home Comfortable this Stay-at-Home Summer
Summer is upon us and, this year, in particular, many of us will be spending more time in our homes than ever before. This extra time at home means that you'll be relying heavily on plumbing and HVAC systems to make your home comfortable. Keeping up with this additional strain is vital for avoiding uncomfortable or sticky situations (let's face it, summers in New Jersey are sticky enough!) so we've put together this comprehensive list on how to prepare for the upcoming months.
Schedule Your AC Tune Up
Routine heater maintenance helps increase your system's lifespan, increase its efficiency and can lower your utility bills. In fact, without regular maintenance, you could end up spending more on your utilities than what it cost to buy the system and manufacturers could void their warranty.
Benefits of AC Tune Ups
Increase your system's efficiency
Prevent expensive and inconvenient breakdowns
Prolong the life of your system
Protect your manufacturer warranty
Provide you with peace of mind all summer long
Breathe Easy and Fight Viruses at Home
Add an extra line of protection to your home by installing an indoor air quality system made to fight viruses and more. We offer many premier indoor air quality systems, all are in-stock and ready to install.
Whole-House Air Filtration. These systems can remove harmful contaminants in your home, helping to reduce the severity of allergy and asthma symptoms as well other respiratory issues.
UV Light Disinfection. Adding ultraviolet air disinfection to your HVAC equipment sanitizes your home's air, destroying germs and bacteria before they spread throughout your home, keeping you and your family safe.
Consider a New AC System…
Since your home is going to be your primary summer oasis, it might be worthwhile to invest in a new high-efficiency AC system to keep you and your family comfortable throughout the hot, humid summer months.
Because purchasing an air conditioning system is such an important decision, we take extra care to ensure your experience, from beginning to end, is smooth and trouble-free. When getting your free in-home comfort analysis, we'll evaluate your home, comfort preferences and budget. We'll also address concerns, like allergies and indoor air quality, when determining the best air conditioner for your home and lifestyle. Lastly, our comfort specialist will take time to precisely measure your home to make sure the AC equipment is properly sized.
…Or Ductless Mini-Split
If you don't need a new AC system but have a particular room or area in your home that needs some extra cooling, consider opting for a ductless AC system. Inexpensive and easy to install, ductless systems are great for homes that don't have ductwork or have room additions. Moreover, they're a perfect solution for anyone who suffers from allergies or wants to split a home's cooling into different zones.
Benefits of a Ductless System
Easy Installation
Financial Savings
Compact in Size
Minimal Noise
Increased Efficiency
Effective plumbing is so important for maintaining our health, hygiene and overall comfort. In addition to ensuring your home's plumbing system is properly maintained, we have a few recommendations on how to make life at home a little more comfortable this summer.
Treat Problem Water
Get soft water on demand! Stop dealing with scaly faucets, valves, sinks and shower heads by having a water conditioner installed in your home. The most innovative systems on the market today, our water conditioners are proven to effectively treat all types of problem water. Furthermore, you can expect your appliances to run more efficiently, which is so important as we spend more time in our homes!
Install a Garbage Disposal
Having a garbage disposal installed in your home is a great idea for many reasons. First, a garbage disposal is an effective way to manage food waste. Instead of dealing with unpleasant smells that eventually escape from your trash can, you can quickly dispose of kitchen and table scraps without lingering odors. Second, the environmental benefits are paramount. A high percentage of environmental waste consists of food scraps. Having a garbage disposal can help reduce waste and requires only a small amount of water to operate. Third, installing a garbage disposal can even protect your home's plumbing. Your plumbing can get clogged and require a plumber to come out should food scraps get washed down your kitchen sink drain. Installing a garbage disposal helps to avoid this inconvenience and cost.
100% Satisfaction Guaranteed
We are so certain of our work that we back all our HVAC and plumbing services with a 100% satisfaction guarantee. Whatever your home service needs, our expert plumbers and HVAC technicians are standing by to help, 24/7/365. Call Weltman Home Services today!
---